Shoring Engineers is 50 years strong—in a field where strength is everything. We are one of the oldest shoring contractors in California—and one of the only companies in Southern California that performs shoring, excavation and shotcrete applications together as a team.
HOW THE MAP WORKS (instructions)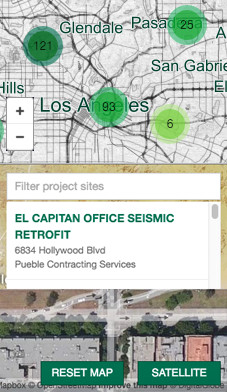 Circled numbers indicate projects within the region.
Zoom in and out with the + & - symbols in the lower left.
Search for a specific project, construction company, or building corporation in the Filter Project Sites bar top right.
Select a specific site within the right column listing.
Switch from rendering view to satellite view in the lower right.
Reset button on bottom right to reset map and column listing.
Zoom out to return to circled numbered map.